I really, really love Christmas cards.  I love picking out the paper, the photos, writing the letter – all of it.  This year it's just not going to happen.  I decided that if something that isn't required was causing me stress, I could cross it off my list.
But then your lovely Christmas cards started coming in and I felt so guilty!  So I'm cheating and using my blog 
  So here goes.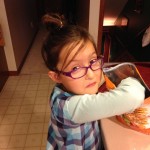 Ada is in third grade and will be NINE the day after Christmas.  I can't even believe it.  My baby is going to be nine.  She is so stinking smart.  She seems to be able to clear every hurdle that comes her way at school.  She is currently taking piano lessons at school, as well as in the girls' choir and an maintain class.
Along with the school smarts comes her sassy, stubborn smart.  She can dig in on an argument and her trench is DEEP.  She loves all things soft and fuzzy – stuffed animals, blankets, pillows.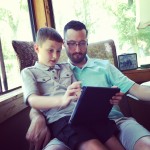 Eli is in fifth grade, and is thriving!  He is playing the violin for the third year and was invited to be in a special artist class at school.  He excels at math and is starting to actually like reading! 
And there are still the same things…Legos, Star Wars, video games.  He is growing so fast, it's amazing to watch him turn into a little man.  I'm thankful he has his daddy to learn from.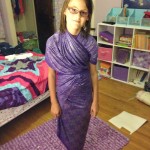 Grace is in sixth grade, and I'm so impressed with how she's handling middle school!  She is getting more independent and self-reliant.
She is so gifted in all things creative, here you can see she made a dress out of a leftover piece of fabric.  All she wants for Christmas is fabric 
Eleven is a tough age, but we're all growing so much and learning together.  She's a great kid and I'm so proud of her.
And us.  I've been a substitute teacher for just over a year and really, really love it.  I'm still learning how to take care of my home responsibilities, but that's where Chad steps in and is just amazing.  He's still working at ENS as the VP of Operations and has recently started a screen printing company called Old Fort Apparel!  I've been so impressed by the way he has started this from scratch and is teaching the kids how to run a business.  He's the best.
"Therefore God exalted him to the highest place and gave him the name that is above every name, that at the name of Jesus every knee should bow, in heaven and on earth and under the earth, and every tongue acknowledge that Jesus Christ is Lord, to the glory of God the Father." Philippians 2:9-11
Please remember why we celebrate Christmas.  It isn't the presents and the busyness and the stuff.  It's Jesus.  That at the sound of his name, every knee should bow.  Let's all consider this as we're singing his name in Christmas songs for the next few days.  It's not just A name, it's THE name.
Merry Christmas, dear friends.
The Orlikowskis