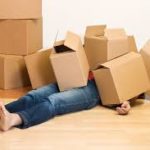 We're moving.  Maybe you didn't know that.  Here's a brief run down…
July 30: house on the market; 8 showings in 4 days, 3 offers, sold August 3; 3 weeks of packing like crazy, then a bad inspection and a buyer backing out.
Oh, and we were preparing for a 13-day cross-country vacation.
On the day we left for vacation, we put the house back on the market, show-ready, and let our realtor do his thing.  We just drove away with headaches, stomach aches, heart aches.  We came back on a Tuesday, house sold on Saturday, September 10.  Back to … Read the rest