I
 had the opportunity last weekend to attend my third Hearts at Home conference, and as usual it did not disappoint.  I heard great insight from so many speakers, took page after page of notes, and was inspired to continue to be a better mom.
One thing I noticed (and appreciated) about each speaker is that they weren't pushing me to be like them.  They were merely sharing their journey and encouraging me along my own.
We are each on our own journey, with our own map and our own equipment, and let's not forget our own unique traveling buddies.  We can't travel down someone else's path because we don't have their map.  What we CAN do is encourage each other and share some tools along the way.
I was able to share my Hearts at Home weekend with 5 great friends, and my dear sister.  Do you want to know a secret?  None of us parent the same way.  None of us are in the same stage of parenting.  Some are blissfully done having children, some are done but kind of sad, and some are still growing their family.  Some have chosen to work outside of the home and some have chosen to stay home full time.  What we shared was a desire to be better.  With seven different personalities and seven different backgrounds, we all had a common goal, and the confidence to be ourselves in the process.
And interestingly, I believe the confidence to be yourself also brings the courage to give others the freedom to do the same.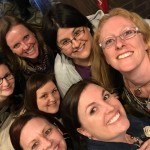 Thank you to my friends who joined me last weekend, for letting me be myself, and for being yourselves.  It made for many more laughs, I'm sure!  (That's me on the left with my face half cut off!)
Be confident, mommas.  You're doing a great job.